Booms
Two aluminum booms for sale. Please contact Ed Hone (519) 572-9334 or email ehone@live.ca Located in Waterloo, ON.
Aluminum Masts and Booms
Good condition. Please contact Pierre Dignard @ Sudbury, Ontario (705) 523-0347 or email pdignard@isys.ca.
Used North Sails
Various sail condition quality available from fair to very good. Shipment via Greyhound Bus available to any part of Canada. Please contact Pierre Dignard Sudbury, Ontario (705) 523-0347 or email pdignard@isys.ca.
Y-1080 Fiberglass
5 stay refurbished complete with wood mast and boom, one set of sails and trailer located in Seaforth, ON. For more information, please contact Bill Scott (519) 527-2408 or email wscott@tcc.on.ca.
Y-905
Wood
FREE. Built 1960. Wood 3 stay mast and boom, steel old style centreboard, no trailer.

Please contact Maya Willis for more information (819) 843-5353 or email Wilvaken@wilvaken.com. Photos available upon request.
Located Wilvaken, Magog, QC
Hull number TBA, Wood
FREE. Built approximately early 1970's. Wood 3 stay mast and boom, old style steel centreboard, no trailer.

Please contact Maya Willis for more information (819) 843-5353 or email Wilvaken@wilvaken.com. Photos available upon request. Located Wilvaken, Magog, QC
Y-2042 Wood
FREE. Built 1970, one owner. Wood 3 stay mast and boom, old style steel centreboard complete with trailer that may require new tires and bearings.

Please contact Maya Willis for more information (819) 843-5353 or email Wilvaken@wilvaken.com. Photos available upon request. Located Wilvaken, Magog, QC
Y-2804 2008 Turner, White hull w/ green -Swoosh-
Nearly new condition, lightly used stored indoors in the winter. White powder coated spars. Harken Carbo blocks throughout. One suit of sails (main, jib) lifting bridle, kick-up rudder top cover, bottom cover, mast cover, boom cover trailer w/ spare wheel/tire trailer bunkers replaced in the last 1-2 years. Trailer is titled/registered in Indiana; boat is not. Boat located in Indianapolis, IN
Asking $15,000 USD. Photos are available on request.
Contact info: Bruce Williams, bruce@cardinalacres.org, 317-514-6255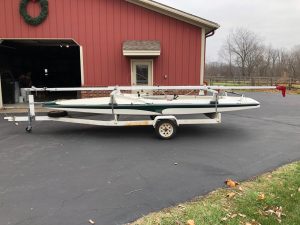 Y- Flyer 2811
Are you looking for a project that will lead to owning and sailing a Y Flyer? This boat is partly constructed and located in Calgary. It's available for $1500. Contact Phil Harding if interested or wanting more info, his email is : innosyn@shaw.ca
Framework assembly complete using 9 mm Baltic Birch Plywood and ripped spruce battens throughout except for inner 2 sides of centreboard trunk and transom which are 9 mm marine plywood. Trunck stainless steel threaded retaining hardware with SS acorn nuts
All ribs, trunk, keelsons, bow and transom were assembled and epoxied with West System. All surfaces have been coated with West System.
Gunnels, cockpit and keelson spruce battens need to be installed.  There are 4 – 20ft pieces for the gunnels.All spruce material is cut and labelled as to where it goes.
Add plywood, paint and hit the water !